5 Plants Every Restaurant Needs
Posted by Jason Wyrwicz on Feb 23rd 2022
Plants in a restaurant are nothing new. Restaurant planters filled with greenery have been something of a restaurant staple for a while now, although there has been a resurgence in recent years. That's largely because there are many advantages to having greenery in a restaurant environment.
From sprucing up your dining area to make it more aesthetically pleasing to growing fresh herbs in the restaurant kitchen or having a splash of color on the entranceway to entice more customers, plants and restaurants go hand in hand.
For restaurant owners, the problem with plants is that they are an extra task to manage. Dead plants will make the opposite impression to healthy ones, so they need looking after. So with that in mind, here are the five best plants for restaurants that won't add to your workload.
Herbs for Practicality
It's common sense that growing herbs in your restaurant is a smart move. Herbs don't need a lot of space, and you'll never have to worry about things like food miles if your herbs are coming straight from the herb containers in your restaurant kitchen or outdoor space. It's also straightforward to grow herbs, as they tend to be very low-maintenance. Depending on your restaurant menu, here are some herbs that you should consider growing in-house.
Mint
It's unlikely that you'll be using mint in your food menu to a massive extent, but it does make for an excellent dessert garnish or as an added flavor in your cocktails or teas. The best thing about mint is that it's extremely easy to grow (one of the simplest). You'll need to have pots that provide good drainage, and those pots will need to be away from direct sunlight. But you'll only ever need to water your mint when the soil is dry, making it very low maintenance indeed.
Parsley
The best thing about parsley is that it loves more direct sunlight. If you're fortunate enough to have a south-facing restaurant window, then your parsley will love it. Talk to your chef about how much parsley they'd get through if they had easy access to it. The results can be amazing when it comes to having parsley growing in your restaurant planters. It might be a herb that's slow to grow, but it yields an enormous amount of produce. Simply snip off the top leaves and let your chef go wild with the garnish.
Basil
Homemade basil pesto that your customers will love? Now that's hard to beat. Growers know basil as a tolerant plant that thrives in a number of heat or light conditions. It's brilliant for adding to a G&T, adds a great touch as a pizza topping or added to pasta, and can even be blended into your soup of the day. It's one of the most versatile herbs around and one of the best plants for restaurants to grow themselves.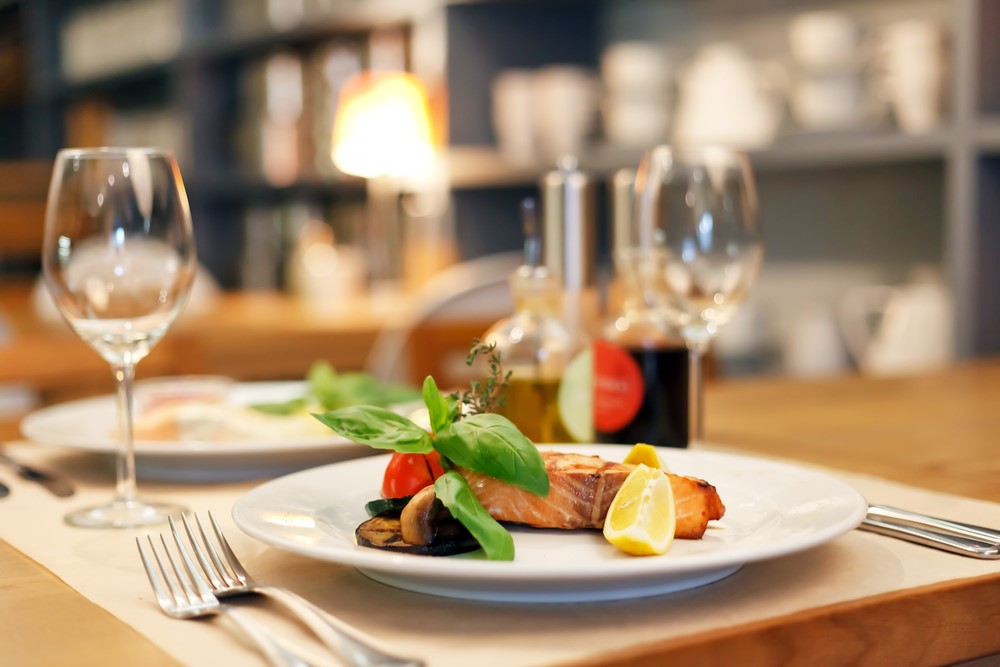 Best Decorative Plants
Moving away from the kitchen, let's take a look at the best plants for restaurants that have a more aesthetic appeal. Restaurant owners that know how to use indoor planters in restaurants have a huge advantage as they can easily be used to transform any space.
These are the plants that will look fantastic in your dining area and can be used to entice more customers. They're also not going to add a massive amount of work for your waiting staff.
Peace Lily
The peace lily is so stunning that it automatically creates a lush ambiance wherever you place it. With their gorgeous dark green leaves and striking white flowers, peace lilies look fantastic and are among the most popular and best plants for restaurants. They're also extremely durable and won't die due to a lack of maintenance.
However, although they will grow in low light, they will positively thrive if you place them in direct sunlight in your outdoor dining space. They don't even need a lot of watering!
Spider Plants
Easy to grow and extremely exuberant, you can't go wrong with spider plants in your restaurant. They're great for adding color to your dining area, with their dense greenery and white, long, arched rosettes. Spider plants have been a popular addition to homes since the Victorian age, but restaurants can benefit from spider plants being edible.
You can add them to salads, smoothies, and stir-fries (to name just a few), and the mild flavor is not overwhelming. They're also very hard to overwater, so your overzealous waiter who's trying to avoid the customers at table 4 won't kill off your plants through excessive watering.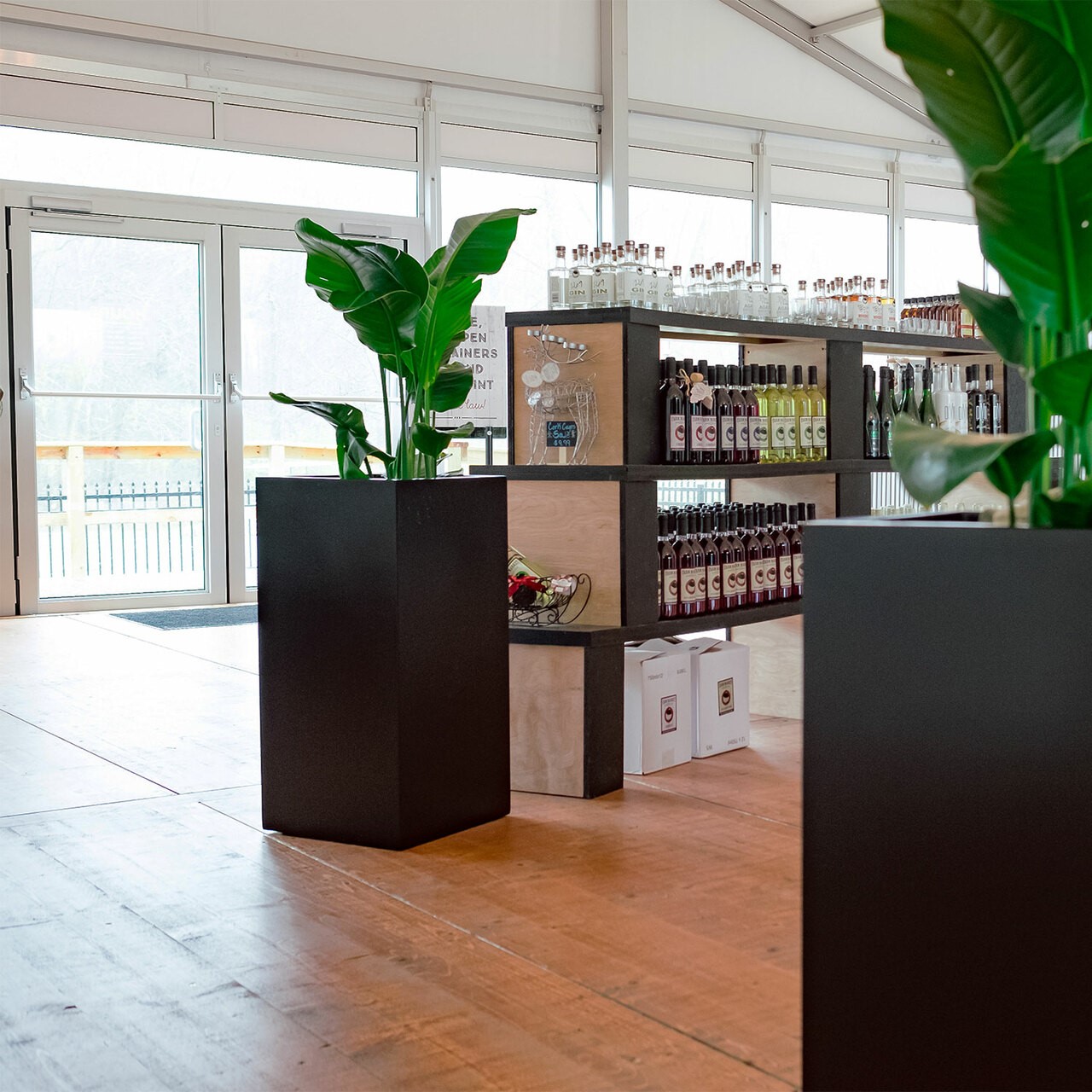 Combine Restaurant Planters with the Best Plants for Restaurants
Those are some of our favorite herbs and best plants for restaurants. There are plenty of alternatives to choose from, with Sansevieria, Japanese maple, Calathea plants, and String of Pearls all widely used. Take a look at how some of the biggest restaurants in the US are using plants to fill their interiors to create stunning effects.
Never choose plants in your restaurant based solely on your favorites. Make sure that you choose the plants and greenery that complement your space. You can also use them as a practical form of architecture, adding privacy and a touch of romance with taller plants in restaurant planters. You can even add some drama to your plants with some dramatic lighting.
You should also ensure that your restaurant plants never get out of control. Use restaurant planters to keep aesthetic plant displays as tidy and as uniform as possible, and use them for your herbs in the kitchen to prevent unnecessary mess. Get them right, and the best plants for restaurants could transform your dimming spaces, your menu, and your footfall.
If You Would Like More Information About Which Pots And Planters Would Be Best For Restaurants, Feel Free To Contact Our Expert Team On 855-208-2650 Or By Email At Sales@Potsplantersandmore.Com.