Street Planters Guide: How to Transform Your Business Exterior with Planters
Posted by Jason Wyrwicz on Sep 21st 2020
A business's exterior says a lot about the company within. How presentable and inviting the exterior is has a huge impact on staff and clientele.
First impressions are shaped when clients and potential clients set eyes upon a business for the first time. Those that regularly come and go are either uplifted or disheartened when entering and exiting the business venue. If staff imagine going to a dull workspace every morning, they are not going to approach the day with the same drive and determination as they would heading to one that is alive and kicking.
The business exterior is where morale and general spirits are formed, so it is important to create one that is inviting for both prospective clients and regular staff. One effective way to guarantee a positive business exterior and entryway is by displaying high-quality outdoor planters outside the building. This way, people are welcomed by a green and vibrant entry point rather than a grey and dreary space.
Here, we provide a short guide on how to transform business exteriors and entryways with high-quality business planters that make a bold and professional statement while injecting a natural, green touch.
Why Use Plants and Planters in Your Business Exterior?
Visual impact is the primary element to consider. You might have heard the idiom "don't judge a book by its cover", but, unfortunately, people do judge a business before they enter.
A mundane looking business exterior is going to lead to assumptions of a mundane interior and, consequently, a mundane business. Plants create a visually attractive space that says "this business is sophisticated and progressive". They are a huge part of modern-day interior and exterior design for good reason.
The popularity of plants and planters in the present day is also largely due to a contemporary environmental awareness that has never been so prevalent. We are reminded weekly about the unprecedented pace at which humans are damaging the environment, and people are intent on working with eco-friendly businesses that are sustainable and environmentally aware. Plants and planters help to associate a business with this green and progressive attitude.
In the ever-expanding urban and digital world in which we live, our connection with nature dwindles a little more each year. People desire a connection to the outdoors, and bringing leafy, natural elements to the business setting has an unrivaled positive effect on workplace morale as well as business image.
The natural elements that plants and planters bring to a business have a proven psychological and physiological impact on staff wellbeing. Plants are proven to combat air pollution, noise pollution, and influence temperatures. They're also reported to minimize stress while being aesthetically pleasing. With a high work satisfaction rate comes a reduction in absenteeism and an increase in company reputation and productivity.
The Best Planters for Businesses: Simple and Sophisticated Planters
With all the pros of having plant life in and outside of the workplace, it is easy to get carried away and over-do things. In most cases, it is a question of quality over quantity and keeping it sleek and simple.
The plants and planters best suited for business exteriors may vary slightly depending upon the business's image and what it wants to convey, but going for simple planters in neutral tones is nearly always the safest bet.
If your business has company colors or a color scheme that it would like to exhibit, then colored planters might be an effective way of solidifying company identity. This makes sense if you're keen to boost the color you are associated with and catch people's eyes.
In a business exterior, though, it is usually best to keep the appearance as sleek and sophisticated as possible. Your marketing and logo can do the talking whilst your entryway and exterior look neat and professional.
Go for neutral tones like whites, greys, and blacks that match with the building's surroundings. Black is always a winner as people associate black with intelligence, confidence, and reliability — it gives a clean and professional look to business exteriors. White is another top choice as it allows the greenery of plants to stand out.
Either way, try to keep the colors simple when choosing planters for a business exterior. It's not necessarily the place to be extra creative and opt for bright or eccentric colors — you want your business to look professional, not loud and overwhelming.
Image from Pots, Planters & More's Badalona Planter Box page.
The Best Planters for Businesses: Which Shape and Size Planters?
When it comes to shape and size, it is largely down to buyer preference, but it's best to choose one shape and size and stick to that — no matter how many planters you intend to use. Keeping the dimensions the same means that your business exterior looks well ordered and neat.
Choose between spherical and quadrilateral designs, and stick to the same motif. Several square planters along the front of the property can completely change a building's feel, bringing greenery but also harmony.
Image from Pots, Planters & More's Dearborn Tall Metal Planter Box page.
Square and rectangular planters are popular picks for good reason. Their quadrilateral dimensions mean that they can be placed next to each other, offering neat lines on the floor and bustling green life at eye level.
The Badalona Planter Box offers a clean, modern, and wide planter that sits brilliantly when lining any business exterior. The Amsterdam Tapered Rectangular Planter offers a widening shape that draws the eye upwards.
Spherical planters are also brilliant additions to business exteriors and can bring a more elegant touch. The unique Strasbourg Tall Tapered Round Planter — seen below — offers a tall spherical planter that brings a decorative regal elegance to any business entryway.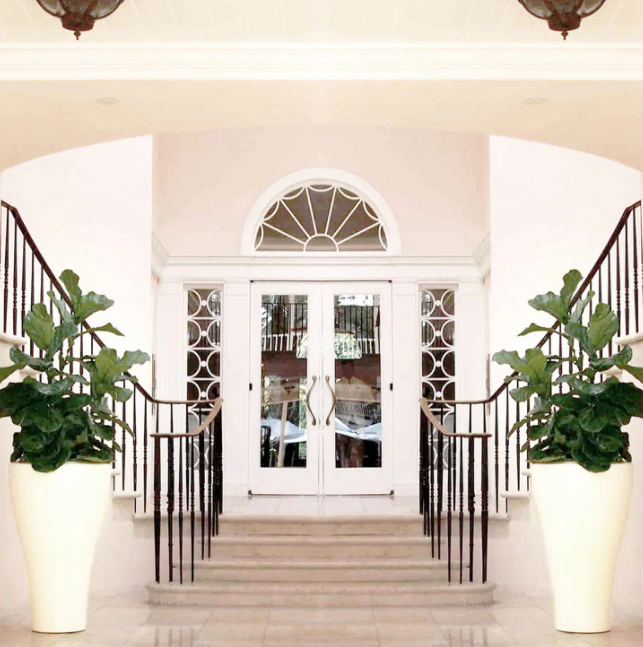 Image From Pots, Planters & More's Strasbourg Tall Tapered Round Planter page.
What Else to Consider with Exterior Planters
Most contemporary, high-end planters will stand the test of time whether they are situated indoors or out. When situated outside of a business, they are, of course, going to be battling the elements. It's worth noting that lighter, more brightly colored planters might appear dirtier than darker planters over time.
You will also want to consider where the planter will be placed. If it is outdoors in direct sunlight, then you will want to select an extra-durable planter, but if you plan on putting your planter in an entryway, durability won't matter as much. In general, all of our planters are built to resist the elements, and durability and maintenance aren't too much of a worry.
When it comes to which plants to use, this is largely down to your preference and what planters fit in with your business image. Ferns, succulents, and dracaenas are safe options as are ivy and other hanging plants. Bear in mind that tall pots will suit trailing plants that hang over the edge whilst shallower containers are better suited to succulents, herbs, and aloes.
Thinking about upgrading your business exterior? Browse our large range of outdoor pots and planters, and spruce up your business exterior today. Check out our wholesale planter program for some great planter prices.