How to Decorate a Minimalist Home with Foliage and Large Planters
Posted by Jason Wyrwicz on Dec 9th 2022
You may have dreamed of a minimalist home for a long time, but it can be hard to know where to start. It's no surprise that simplicity is crucial when it comes to minimalist interior design concepts but there is more to it than just that. It takes skill to strike the ideal balance between a clean, well-organized layout and interesting, attention-grabbing details.
When approaching minimalist design, we would start by thinking about the flow of traffic through the house and the connection between the indoor and outdoor spaces. Then, we set up the house's boundaries to utilize the best views and locate strategic spots for complementary furnishings and plantscaping.
If you want to incorporate more plants and planters into your life but don't know where to begin, you've landed in the right place. Here are some suggestions for using indoor plants and large planters to spruce up your modern home or office:
Seek a Middle Ground
You should base the planters for your indoor plants on the overall shape of the room and the .
Wide, rectangular-shaped large planters complement well-grown Dracaena trifasciata and ferns for a unified appearance. Keep things looking sleek by grouping pots and plants together first. Planters can have some depth while still being minimal if plants of the same type are used in varying sizes.
Create a Dramatic Aesthetic Flare
When you need to fill a huge room but don't want to commit to a piece of heavy furniture, consider getting an indoor plant and displaying it in a lovely large planter. In order to make a dramatic change and adopt a minimalist aesthetic, large planters are the way to go. Our white Saint Tropez Tall Vase Planter Pot is a stunning showpiece planter.
You won't even need to add more plants and planters to the room because this enormous planter is so eye-catching on its own. Indoors, large tall planters are perfect because they blend nicely with any modern décor. You can put it next to the couch, at the foot of the stairs, or in the foyer, as long as the plants there get plenty of light.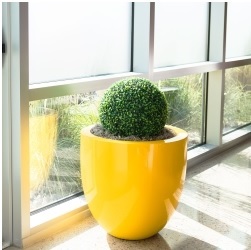 Think About Your Color Scheme
You can achieve a more aesthetically pleasing effect by coordinating plants and pots based on the color scheme of the room you're decorating. Do you want to go all out with a tropical theme and fill a large planter with lots of green plants? In order to select plants and large planters that complement the room's colors and furniture, you'll need to know the answer to this question.
Despite the widespread adoption of clean lines and monochromatic color palettes in plant and planter design due to their ability to evoke a sense of tranquil joy, the natural world continues to wow with its abundance of vibrant hues. Plants and planters are usually seen outdoors, but when brought within, they produce a dynamic and joyful atmosphere. If you're feeling a bit out of sorts, perhaps some big, green plants in brightly colored planters would help you see the bright side of things.
Consider our aesthetically striking Alzira Round Tapered Plant Pot in yellow.
Embrace Simplicity
The sleek, contemporary designs of today's corporate offices may now be found in even the coziest of homes. Because of its proven effectiveness in fostering professionalism and efficiency, minimalism, the aesthetic movement toward less stuff and more open space, has been sweeping through home offices across the country.
There has never been a more diverse selection of plants and planter designs available to consumers. Modern minimalist interiors favor stark, monochromatic color palettes and clean, geometric forms.
Incorporate Technology into Design
The upward momentum of technology perpetually gives rise to new developments in the artistic world. Large technological companies are starting to construct smart buildings, and with them come planters equipped with features like automatic irrigation, also known as self-watering planters.
As the advantages become more apparent, more people take up gardening as a hobby as it becomes less challenging to do so. With the internet, it's easier than ever to get started, with resources ranging from gardening tools to professional interior design assistance just a click away. In an effort to simplify our increasingly hectic lives, planter engineering is evolving to keep up with our needs.
Our Clarendon Self-Watering Tapered Round Planter Pot has a charming aesthetic that would complement both traditional and modern settings.
Say No To Faux
Don't use fake plants if you want to add some greenery to your interior design. Never let your lovely home be ruined by shabby fake ones. The lush vegetation provides the necessary burst of fresh greenery for any minimalist dwelling.
It's The Experience That Matters
Finally, keep in mind that, like other design endeavors, creating a minimalist environment won't be easy. Making your house more minimalistic is a process that can take some time. Consider it a longer-term endeavor. Putting in the time and effort to complete the aforementioned tasks in order will yield excellent results.
In any case, check out PotsPlantersandMore.Com if you're looking for tastefully built, large planters that won't break the bank.