Fiberglass, Metal, or Resin: How to Choose The Right Planter Material For Any Design or Landscape
Posted by Jason Wyrwicz on Jun 8th 2016
Whether a colorful planter box flanking an area of interest or a distinctive, tall vase planter framing an entrance to a building, outdoor plant containers are more than a space for greenery and flowers – they're an essential part of any design scheme. Planters are anchors of style, either quietly blending in or offering a pop of contrast for a unique twist. When thoughtfully chosen, outdoor planters can add as much character and style for the exterior of a location as art, furnishings, and other pieces of décor do for the interior. When it comes to choosing the right material for outdoor planters, there are a few things to keep in mind during the process.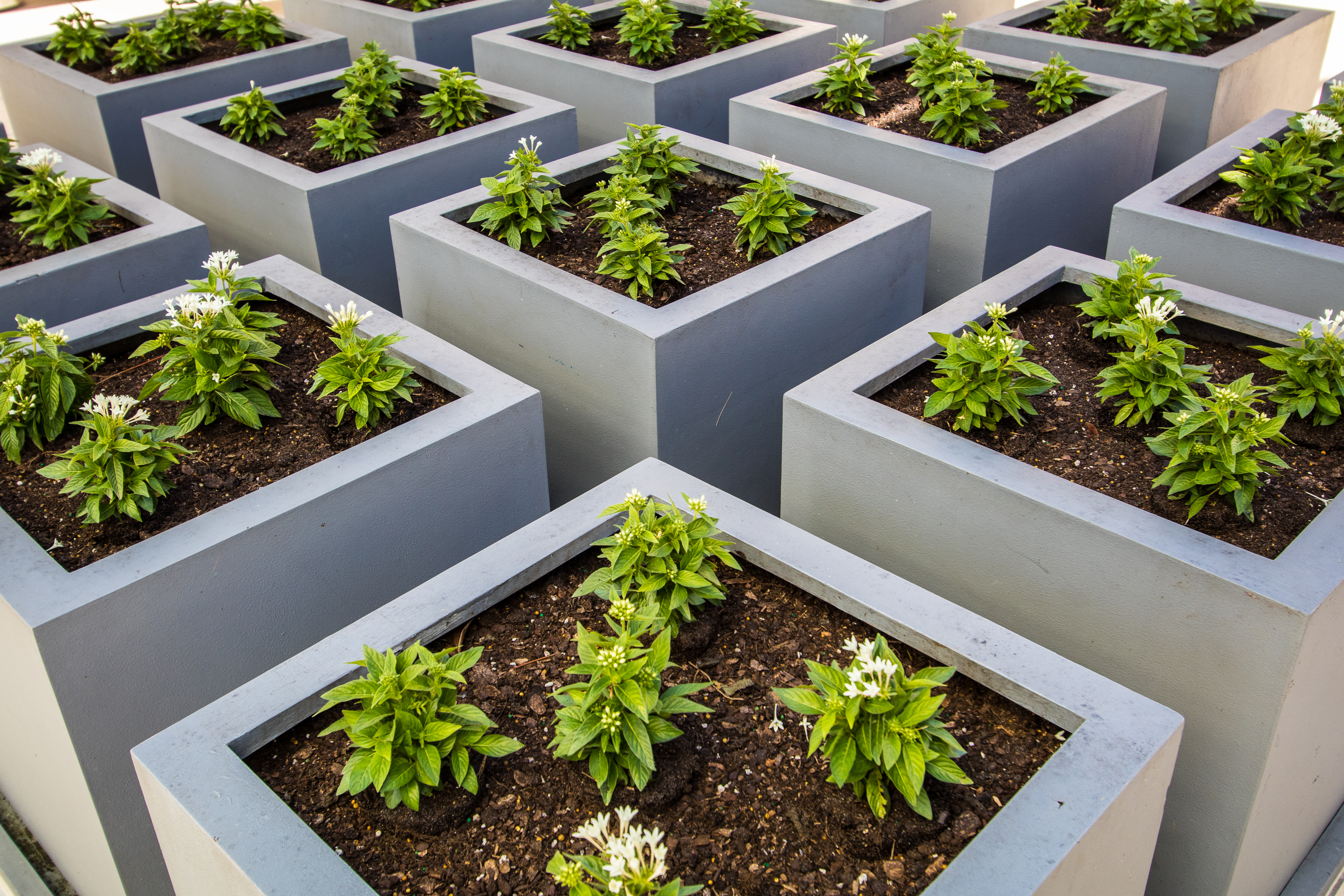 The Big Three: Durability, Appearance, and Care
When looking for the best outdoor planters based on material, there are three main factors to consider. These factors will help you find the right choice for the specifics of the area or overall design scheme.
Durability
Durability is how well a planter holds up under pressure basically. There is no denying that certain materials can withstand more wear and tear than others on the market. The durability of the material will determine how long the planter lasts and how well it keeps up in appearance. For instance, even durable materials may last for years but decrease in visual appeal from factors such as exposure to sun or rain. It is important to consider where the planter will be placed when looking at durability. If you are planning on placing the outdoor planter in direct sunlight out in the open, you will need an extra durable option. If you are placing the planter somewhere where there will be minimal sun exposure such as under an awning near an entrance, you may be able to choose an option that is less durable than the full sun option.
Appearance
Another important factor to keep in mind in terms of material is the appearance. The material used will play a role in how the planter looks, elements of texture, and possible color schemes. For example, the difference in appearance between a metal planter in a silver hue and a fiberglass planter in a vibrant yellow is apparent as a result of the materials used. Most metal planters come in metal tones rather than colorful options so the matter of appearance should be a factor when choosing the material.
Care
Finally, the matter of care should be a factor when choosing a planter based on material type. Each material has its own care needs to maintain the planter and ensure a long-lasting appearance. For example, the care needs for metal planters vary from the care needs of resin planters so considering this element is crucial.
Selecting the correct planter is important for both style and function, as the material used will affect a plant container's durability, versatility, care needs, and design possibilities. Here are some of the typical materials offered in high-end planters and the characteristics of each to help narrow down the options.
Fiberglass Planters
Fiberglass planters bring ease and sophistication wherever they are used, allowing flat dull spaces to bloom with life. The lightweight nature of fiberglass makes it an ideal material for planters as the containers can be easily moved to evolve with design trends. Spaces can stay fresh and current as pots are rearranged over and over again.
The weather-resistant nature of fiberglass serves as a common material for outdoor design. These pots can withstand extreme outdoor elements from high heat to a chilling frost and the seasonal thaw cycles. They are low maintenance and won't corrode due to exposure or direct contact with soil. Colored pots will keep their bright hues with our hand-finished automotive-grade paint that holds up in inclement weather and withstands UV rays for a lasting quality that can be used year after year.
A little light maintenance will help fiberglass planters hold their vibrant color over time. Mild soap detergent and fiberglass wax from time to time are all that is needed to keep them looking their best for years to come. Designer fiberglass planters are a stylish investment that will continue to deliver versatility and sophistication for years to come.
Metal Planters
Steel and aluminum outdoor planters are unique and on-trend, offering a contemporary edge to any landscape. They are durable and won't chip, crack or break. Another element that makes aluminum options one of the best outdoor planters can be custom made to perfectly bring a design vision to life. The sleek style of made-to-order metal planters add sophistication in hard-to-fit areas both indoors and out. Available in six powder-coated finishes, these metal planters are like a functional piece of art that effortlessly elevates the aesthetics of any modern space.
Key points that should be remembered when selecting metal planters is that they provide limited insulation and the larger sizes are heavy to move, so flexibility in layout is limited. Direct sun can quickly heat up these planters, causing soil to dry out, so ample watering is necessary. Also, because the material is not porous, it's important to have adequate drainage holes.
The care of aluminum planters is easy, but a slight oxidation may occur over time. This can be taken care of with a gentle wash with a dish scrubber dipped in equal parts water and white vinegar or lemon juice, then a rinse and towel dry. Painted aluminum planters should be washed with mild soap and dried with a soft towel.
Aluminum planters offer an industrial look, and their luster can last a lifetime with a little extra care. A scrub with a soft, bristled brush using a quarter-cup mild dish soap diluted in a gallon of hot water is all that's needed to maintain the sleek shine of galvanized steel. Metal or wool brushes and harsh or acidic cleaners like vinegar should never be used as they may cause damage. The additional use of metal waxes will keep galvanized metal surfaces looking like new and protect the planter's value over time.
Resin and Plastic Planters
Plastic and resin planters have the unique ability to mimic other materials, such as stone, concrete, and terra cotta, but are much more lightweight, durable, and versatile than many natural materials which may crumble or crack.
Although plastic outdoor planters hold up well, they don't have the staying power of a more durable material like metal. Resin comes in endless shapes and colors, allowing versatility and the ability to experiment with different looks without the higher investment of more lasting materials.
Smaller plastic planters can be cleaned by simply immersing them in a mixture of water and dish soap for ten minutes. For larger pots, a light scrub and thorough rinse followed by air drying will keep them clean and fresh.
<> If you are looking for affordable wholesale outdoor planters, then contact us today.