Best Types of Planters for Business Types
Posted by Jason Wyrwicz on Apr 29th 2020
Businesses need to make a good first impression on customers as soon as they step on the property. An easy and stylish way to make this good first impression is with the use of planters for a fresh landscaping touch. Planters can also be utilized indoors to great effect to create a pleasing environment your customers are sure to love. How do you know the right planter for your business? Let's take a look at the best types of planters for business types.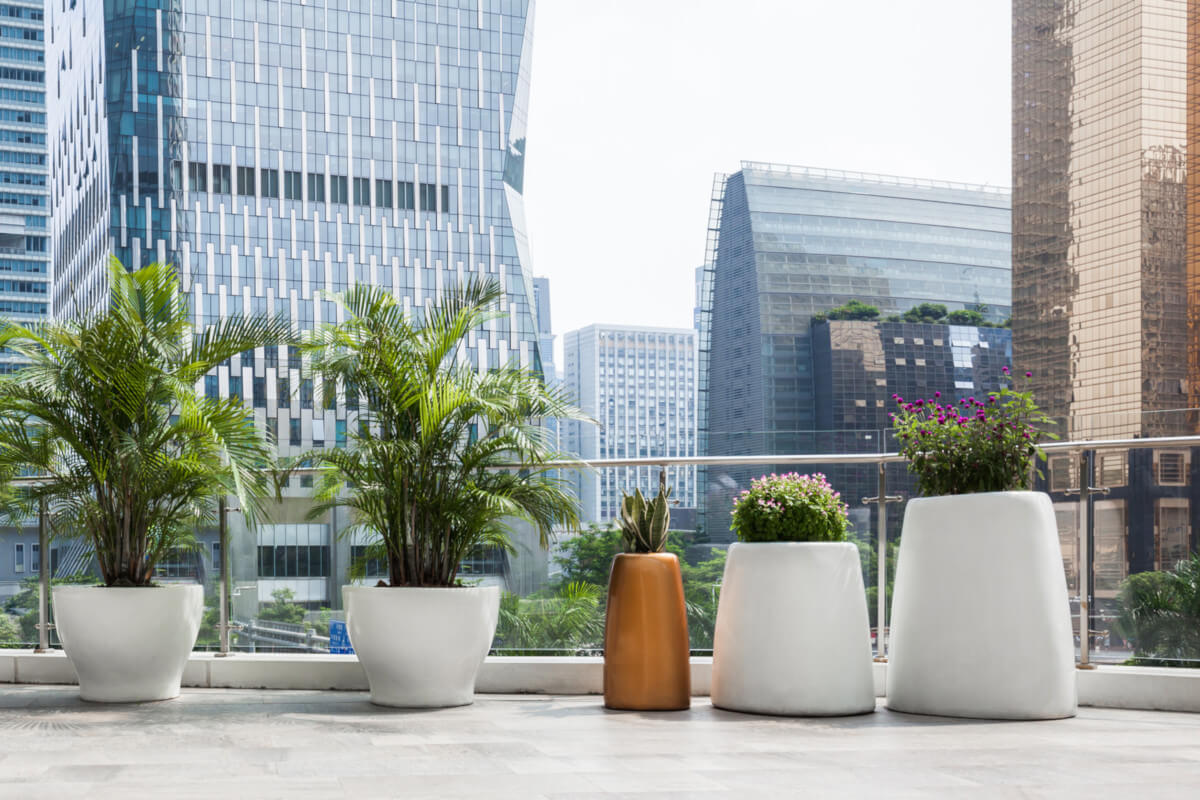 Office Complexes
If your business is within a larger building such as an office complex, the right planters will depend on a few factors. Do you want something bold in color for a lively approach or a more muted color to maintain professionalism? Are you looking for larger planters to line walkways to help direct the flow of foot traffic? When it comes to the exterior planters
When it comes to choosing the best types of planters for business types, hotels are in a category unique to their industry. A hotel should be warm and inviting from the moment the guest pulls on the lot. Each part of the experience, from walking through the lot to the entrance and then the lobby, must be well-kept and visually pleasing to the eye. The right type of planters for this type of business should focus on style and color while matching with the overall décor of the hotel. For example, this location is ideal for playing with dramatic shapes such as fluted styles or rounded options, as well as using interesting colors. This isn't to say the planters should be hot pink, but even in deeper shades you can mix it up in dramatic ways such as choosing a darker shade of green and alternating it with a pleasing white planter to balance it out. There are plenty of dramatic styles and colors to help make your hotel stand out from the parking lot to the lobby and even the rooms.
Restaurants/Bars
This is another type of business that has unique needs in terms of planters. Since these locations tend to be high traffic, you need planters made to last. Fiberglass planters are a great choice for this type of business because it is durable, resistant to chips or cracks, and it isn't vulnerable to moisture damage the way metal or wood would be in this environment. Aside from the material, the matter of size is important. Planters should highlight certain areas of the location without getting in the way of foot traffic inside the restaurant or bar. If you are using larger planters, place them against a wall so they are out of the way. Smaller planters can be used on tabletops or counters for dramatic appeal. While the matters of size and material are important, the matters of style and color are also worth considering for this business type. For restaurants and bars, look for clean shapes in modern hues such as rectangular or square in colors like black, white, dark blue, or hunter green. If the restaurant is aimed more at families, consider something playful such as round planters in a playful blue or yellow.
Grocery Stores/Shopping Centers/Malls
For these types of businesses, the right planters are usually less flashy and more about adding subtle touches of landscaping appeal to the exterior. The right planter for this type of business will depend on a few things. For starters, you should keep in mind ease of care and durability since these are high traffic areas. You don't want planters for the exterior that will show wear and tear quickly. Again, fiberglass is a great choice because it is sturdy and keeps up its appearance well over time. When it comes to matters of color and style, the right planter will vary from one to the next based on the area. In more affluent communities, shopping centers, grocery stores, and malls, planters should be in modern colors such as black, white, olive, or other natural tones. In communities that are more family-focused, the use of round planters in more playful hues is a great choice. For interior planters, this will typically only apply to malls in this category of business types. Malls should use planters to add touches of greenery to what could otherwise be a cold, uninviting space. Planters can be used near doorways, restrooms, and walkways through the mall to add something extra. The right planters for this setting would be something bold and noticeable. Since malls tend to be rather basic in their design, it leaves more options available in terms of color choices for the planters. Brighter colors, such as red and yellow, are known to draw the eye for an attractive planter choice.
The right planter for your type of business will depend on your preferences as well. If you tend to like bright colors, opt for vibrant hues of red, yellow, or pink. If you love the look of rounded planters over square options, find rounded options that will work for you. These suggestions are here to guide your business to the best outcome when choosing planters, but you still have plenty of say in the end result. The bottom line is that it is crucial to consider the type of location carefully when making any decision on planters.