Office Planters: How to Use Planters in Your Office
Posted by Jason Wyrwicz on Aug 31st 2020
Planters are a fantastic addition to any indoor or outdoor space, but it is in offices and workspaces where they really are indispensable. We have seen a remarkable transformation in offices around the world over the last decade. They have evolved from bland and solemn environments to dynamic, informal workspaces.
This change is down to a modern awareness of workplace wellbeing. Businesses now realize that an inviting, fun space — complete with office planters — can improve morale, mental health, productivity, and profitability. This consequently attracts talented individuals that are more likely to stay at a company for longer — limiting staff turnover.
The most successful companies on the planet — the likes of Facebook, Apple, and Redbull — now have colorful and comfortable offices kitted out with sofas, ping-pong tables, gaming consoles, and nap pods. Some of Google's offices around the world even boast basketball hoops, minigolf courses, and rock climbing walls.
Not all businesses have the resources or space for such installations and that isn't to say your office needs to be quirky and colorful, but modern workplaces benefit from being comfortable and uplifting places. One easy and effective way to create an attractive workspace without breaking the bank or changing the office layout is with office planters.
Why Office Planters?
Before diving into how to use office planters effectively, we should address why planters are such a fantastic addition to the modern office.
The greenery and natural touch brought in by office planters undoubtedly improves office aesthetics and atmosphere, but this is far from the only benefit office planters have on a business workspace.
Office plants and planters have a considerable effect on mental health, creativity, and productivity. Not only do they reduce stress by making a room less mundane and a more auspicious place to work, but they also help to release tension by increasing oxygen and clearing out toxins in the air.
A test carried out by the American Society for Horticultural Science earlier this year verified that indoor plants have a positive psychological and physiological impact on employees. Plants for businesses are attributed to a decrease in tension, anxiety, fatigue, and depression in staff. They reduce sick days, boost overall happiness, and create a pleasing environment for both job applicants and current employees.
How to Use Planters in the Office: Quality over Quantity
Using the right plants and planters for businesses is more complicated than using them in your own home or garden. They have more responsibilities in a more formal setting.
Planters are a welcome addition to any workspace, but the types of plants you choose and the number of planters you place around your office can dictate what kind of image you give and the atmosphere you create.
The right amount of greenery in the right planters can have a wonderful effect on staff, boosting comfort, relaxation, and productivity. Too much greenery, on the other hand, can turn your office from a stylish and inviting workspace to a disorderly greenhouse.
It's easy to get carried away and think that the more greenery the merrier, so it's best to stick to quality over quantity. Striking plants and planters, effectively positioned in the office will benefit you more than overdoing it with lots of cheaper options.
Choosing the Right Plants for Your Planters
There are hundreds of thousands of plants out there. Some are fit for the office and some aren't. You want to avoid plants that require frequent care, are difficult to keep alive, or are known to grow out of control.
Spend time choosing the right plants so that they don't end up becoming a burden and outgrowing your planters. Look at the space they will occupy and think about how much character you want them to have. Do you want lots of leaves and presence or do you want the simplicity of something like bamboo?
Bamboo, aloe, dracaenas, and peace lilies, for example, are notoriously some of the best house and office plants as they don't require too much attention. They are tough, neat, bright, don't wilt, and effectively eliminate pollutants.
These plants add style and color. They fit into any environment — formal or informal — and create a positive, ecological, and organized impression whilst looking respectable and clean.
Choosing the Right Planters for Your Plants
Of all the components, planters are one of the most essential to get right. A planter can dictate how impressive a plant is and what kind of impression it makes. A poor planter will make a place look unorganized despite the elegance of the plant within, but a stylish planter will stand out and make a statement in your office. Planters, after all, are there to stay. They are durable and sophisticated and, while plants may change, the planters you invest in will stand the test of time.
There are many different planters and choosing the right kind is down to you. The ideal selection will depend on the type of space you're working with and what you want your planters to say. Your best bet is keeping the shapes and colors coordinated and minimalistic. Planters in the same shapes and colors look organized, while a more erratic selection will not have such a positive impression.
The vision you have of your office could be one with rectangular pots, square pots, round pots, or bowl pots. It could be that you need window box planters, fiberglass pots, or even custom made pots for when all else fails. Either way, there are a plethora of innovative designs, materials, and colors on the market; it's about making sure they combine with your office space and image.
The safe bet is sticking with a color scheme that isn't too vibrant. This makes sure your planters are stylish but also sophisticated. Colors that are too bright look less formal and can be riskier. Besides, the plants themselves are there to inject some color. Choose blacks, whites, greys, browns, and natural patinas that take a modest backseat — but hold their own, looking elegant and classy — and let the greenery of the plant add a burst of color.
Dark fiberglass planters, aluminum planters, and stone planters are all wonderfully neutral, sleek tones. More colorful planters are usually best avoided unless you're trying to decorate according to your company colors or colors found in the logo of your business. In this case, blues, greens, yellows, and reds might be worth considering but it is usually best to keep to the neutral colors that are less overpowering.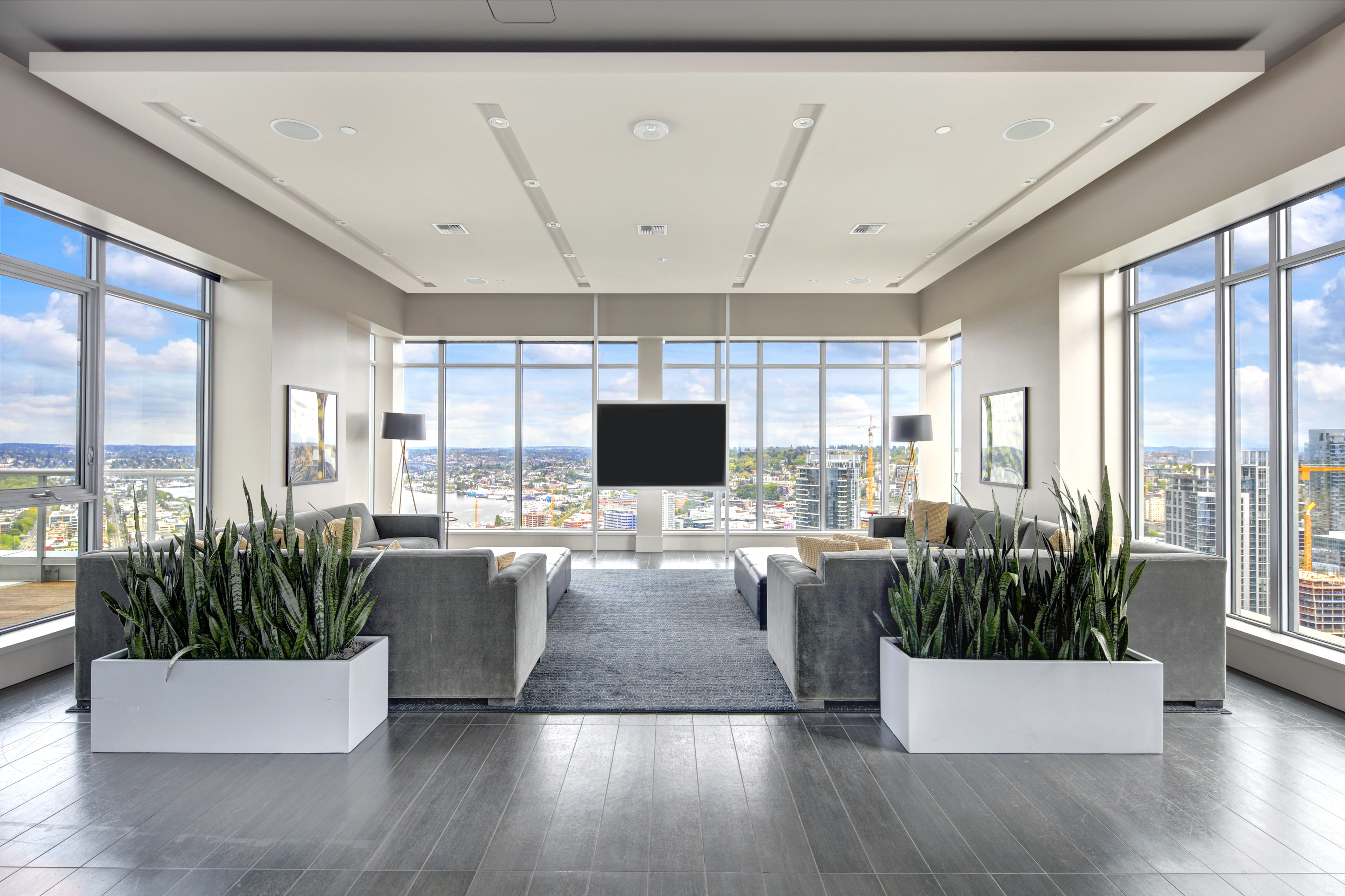 Where to Place and Position Your Planters
Greenery and natural elements draw the eye and transform spaces. Plants bring places to life and inject vibrancy into an otherwise mundane workspace. There is nothing like the fusion of urban design and botanical beauty, but you also don't want to go overboard so that all the greenery hinders organization and productivity. Plants and planters are there to have the opposite effect, so make sure they are well placed and spaced out.
It's a given that office plants and planters should be placed out of the way of places with a lot of footfall, but getting their positioning right can be more difficult than you'd think. It's often a balancing act between putting them in places where they will receive enough light and using them in dark corners that need sprucing up.
Some plants that don't require much light can be placed in corners where they aren't obstacles to help create a more inviting atmosphere. Meanwhile, plants by windows combine with the natural light to make employees feel freer.
Hanging plants in spaces that aren't a danger or an interference is another effective way of making the most of empty space in your office. Keep them visible from working spaces so people don't feel isolated or down. You can even place plants at the office entrance so people are uplifted as they walk in. Planters have a huge impact on people, just make sure you use them to their maximum potential!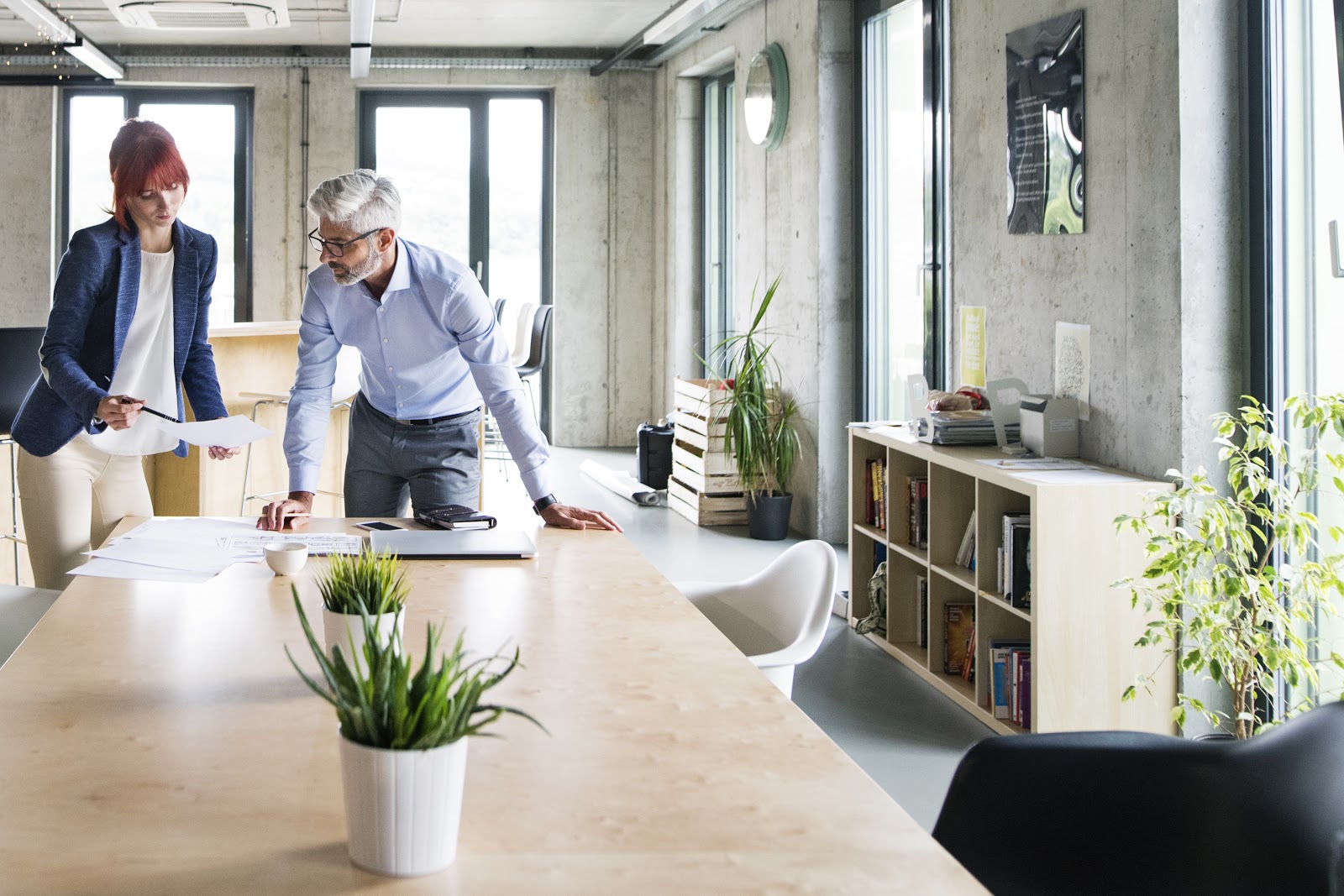 Looking for some design ideas while choosing your office planters? Don't miss our blog: Planter Design Ideas: Inspiring Concepts for Indoor and Outdoor Spaces.