A Style Guide to Modern Landscape Design
Posted by Jason Wyrwicz on Nov 19th 2021
A modern landscape design can complement both contemporary and traditional architecture. It can continue modern building designs into outside spaces or create an effective contrast with conventional or historic structures, merging the old with the new.
Wherever they're located, modern landscapes do more than create a visually stunning environment. They draw on the minimalism of Asian designs and create a zen atmosphere. Clean, uncluttered layouts and natural sounds encourage reflection and relaxation, away from the flurry of daily life.
Businesses choose modern landscape designs for their office buildings to impress clients and encourage mindfulness amongst employees. Retail outlets, hotels, and restaurants choose contemporary gardens to tap into our need to be close to nature and create an enjoyable experience for customers — an experience that keeps them coming back again and again.
So how can you create your own slice of contemporary heaven with a modern landscape design? In this style guide, you'll find everything you need to know about creating a modern outdoor space.
The Key Elements of Modern Landscape Design
No two landscapes are the same, but modern landscape designs share common defining traits. By learning what they are and incorporating these features and themes into your garden, you can create a truly contemporary outdoor space.
Modern Landscapes Align with Architecture
Whether modern landscapes are part of homes, restaurants, offices, or hotels, they're designed to align with the architecture they surround.
They carry themes from building exteriors and inside spaces into the garden, using similar shapes, lines, and colors.
Even when modern gardens contrast with traditional buildings, there will be nods to the original design themes, which seamlessly blend the old with the new.
Clean Lines Create an Uncluttered Design
Modern landscapes focus on organized beauty rather than wild chaos. Straight or sweeping lines are used to give shape and definition to gardens. These lines will often mirror the edges and curves of buildings, creating a seamless transition from structure to grounds.
Everything has its place in a contemporary landscape, from the plants to the furniture, even the people who use the space, and lines help to emphasize that. Clean lines create boundaries that contain plants and help direct people.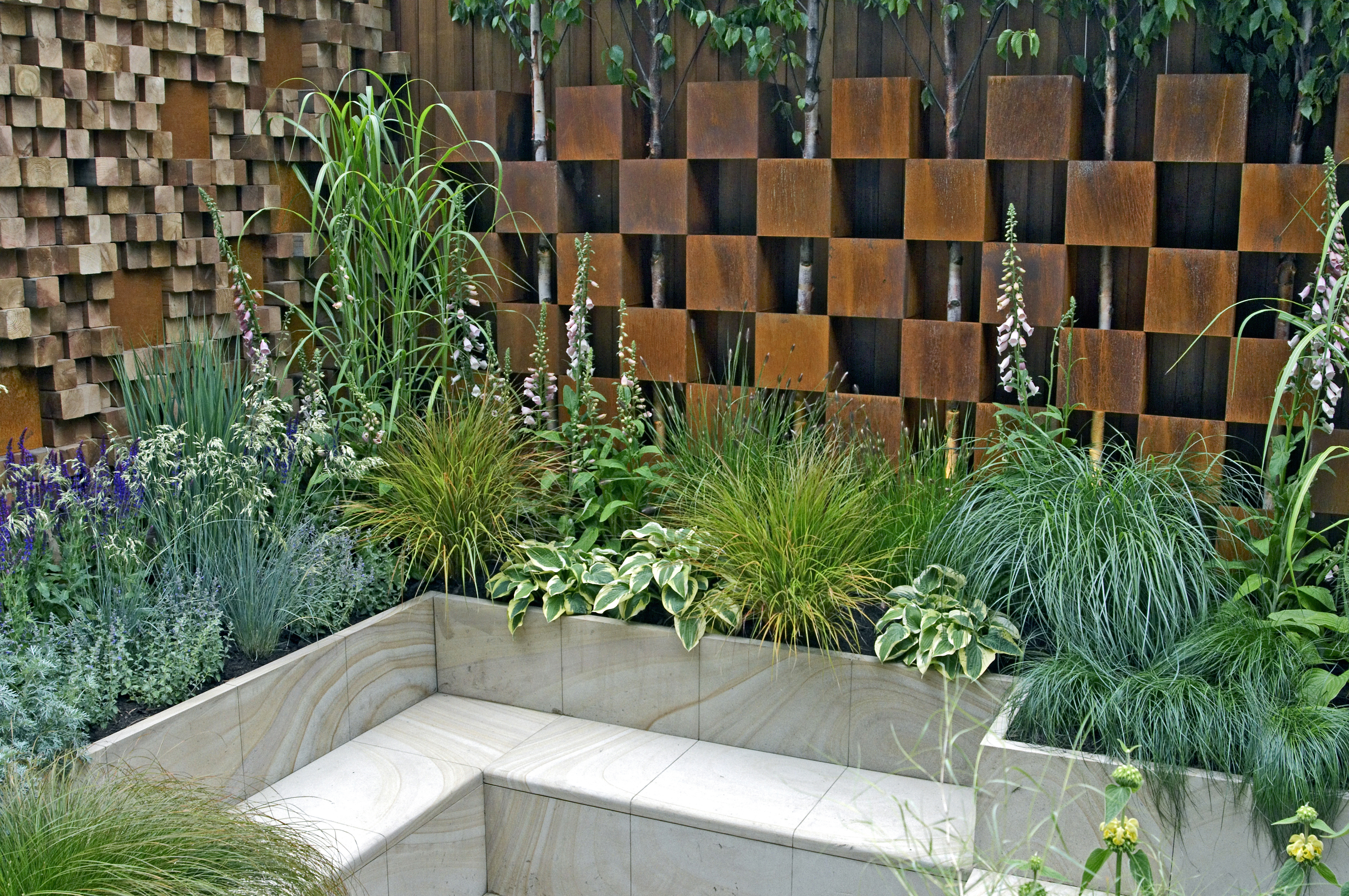 Minimalistic Themes That Offer an Escape from Busy Schedules
We live in a busy world where people are constantly rushing to and fro, worrying about work, or scrolling on their phones. Modern landscape designs often aim to create a calm, serene space where people can escape their everyday hustle and bustle.
With simple, minimalistic designs, contemporary outdoor spaces create a zen-like experience that helps people forget about the day-to-day and take time to relax and reflect.
Hardscaping over Landscaping
The organized beauty of contemporary gardens often comes from hardscaping in place of landscaping. Rather than natural flowerbeds and features, hard materials are used to construct modern landscapes. Stone and concrete are used for pathways and plant containers, creating a clear structure.
Hardscaping gives you more control over the appearance and maintenance of your outdoor space, following the common theme of modern spaces — convenience.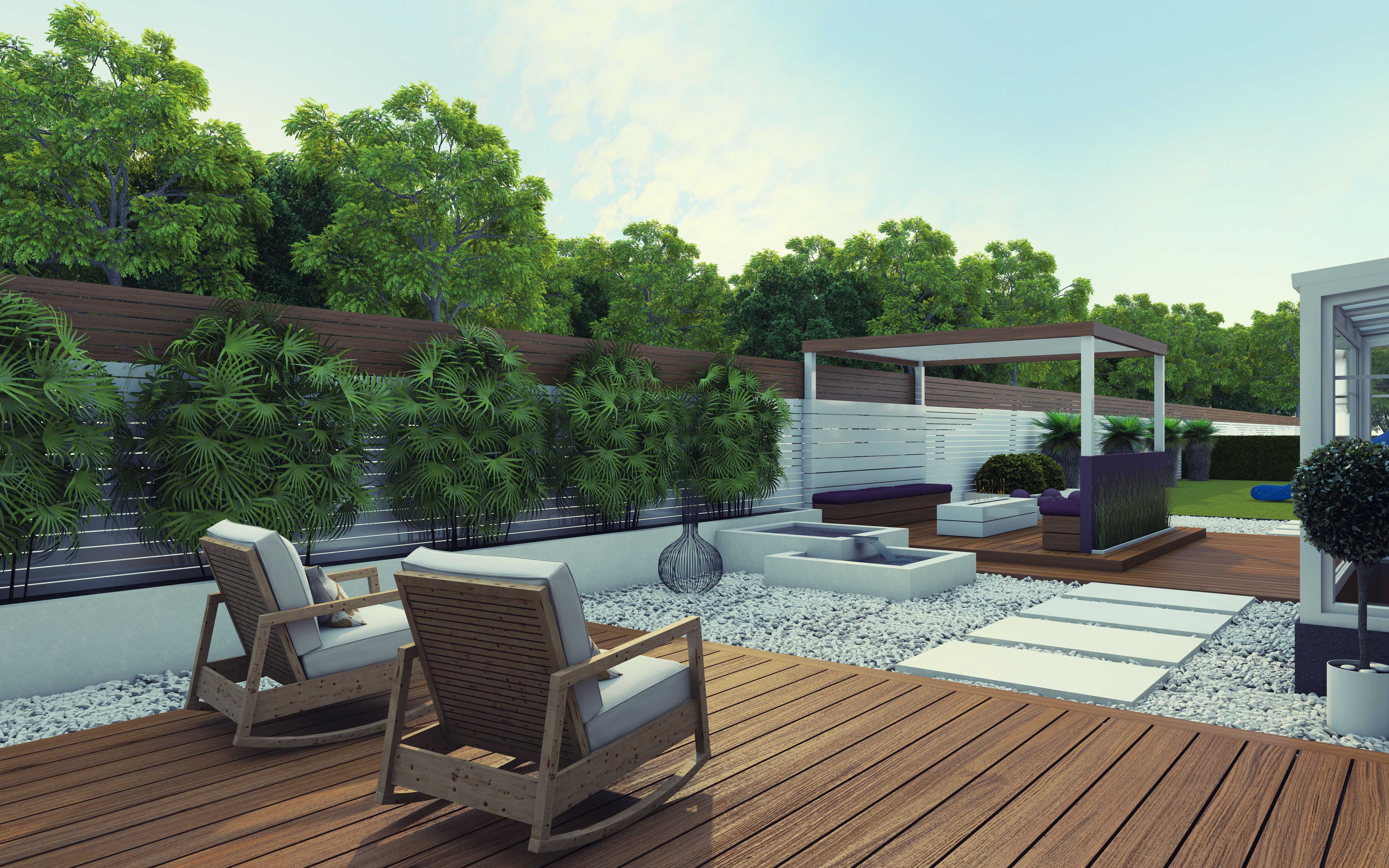 Natural Sounds and Materials Are Used to Create an Oasis
Modern landscapes transport visitors to a tranquil oasis with natural sounds and materials. Even when outdoor spaces are in the middle of a busy city, contemporary designs play on the senses to create a whole other environment.
Natural materials like stone and wood might be used for outdoor furniture and planters — like this fiberstone planter, for example. Other uses of natural materials include water features, rustling plants, and greenery, which give landscapes their own soundtrack.
Features Create a Clear Flow of Direction
Part of the zen atmosphere of modern landscape designs is the sense of direction. Clean lines and open layouts with focal points tell visitors where they're supposed to go. Visitors can wander while the landscape directs them with its features, from planters lining a pathway to sweeping lines that create a clear path.
Form and Function Play an Equal Role
Modern landscapes are designed to look visually impressive while making practical use of the space.
There may be strategically placed furniture so that the outdoor space is used by visitors. Plants can also be both decoration and delicacies (think herbs, vegetables, and small fruits), turning the garden into an urban farming space.
The materials used in contemporary gardens are also chosen for their drainage and heat absorption qualities. Materials like stone, rock, and concrete absorb heat and dry out surrounding soil, preventing overwatering from rotting plants.
How to Use Planters to Create a Modern Landscape Design
One of the main features of modern landscape designs is planters. Container gardening is at the heart of contemporary gardens as it offers control, convenience, and flexibility of design.
Choose the right planter materials — The materials you choose for your plant containers can affect the finish of your outdoor space and the health of your greenery. With pots and planters made from a suitably durable and aesthetic material, you can create a luscious environment, full of thriving plants that stun visitors.
Make sure planters are the right size for your plants— The size of your pots, planters, and containers can affect the health and appearance of your plants. Different sized planters also open up opportunities for sectioning off areas of your outdoor space and creating visual variation.
Get design ideas for landscaping using planters in commercial spaces — If your outdoor space is part of a commercial property, such as a hotel or restaurant, we've put together planter-focused design inspiration to help you style specific commercial areas.
Find pots, planters, and more on our online store and create a stunning modern landscape design, complete with contemporary planters and thriving plants. We have a huge variety of containers that combine form and function so that you can create a beautiful and easy-to-maintain contemporary garden. But if you need help selecting planters, just give us a call on (855) 627-1066 or drop us an email at sales@potsplantersandmore.com.