Spring Updates for Your Business
Posted by Jason Wyrwicz on Apr 15th 2020
As a business owner, you understand the importance of the smaller details. When spring rolls around, you should use this time of year to make some updates to your business, both on the interior and the exterior. Here are a few ideas for spring updates for your business to bring new life to the location.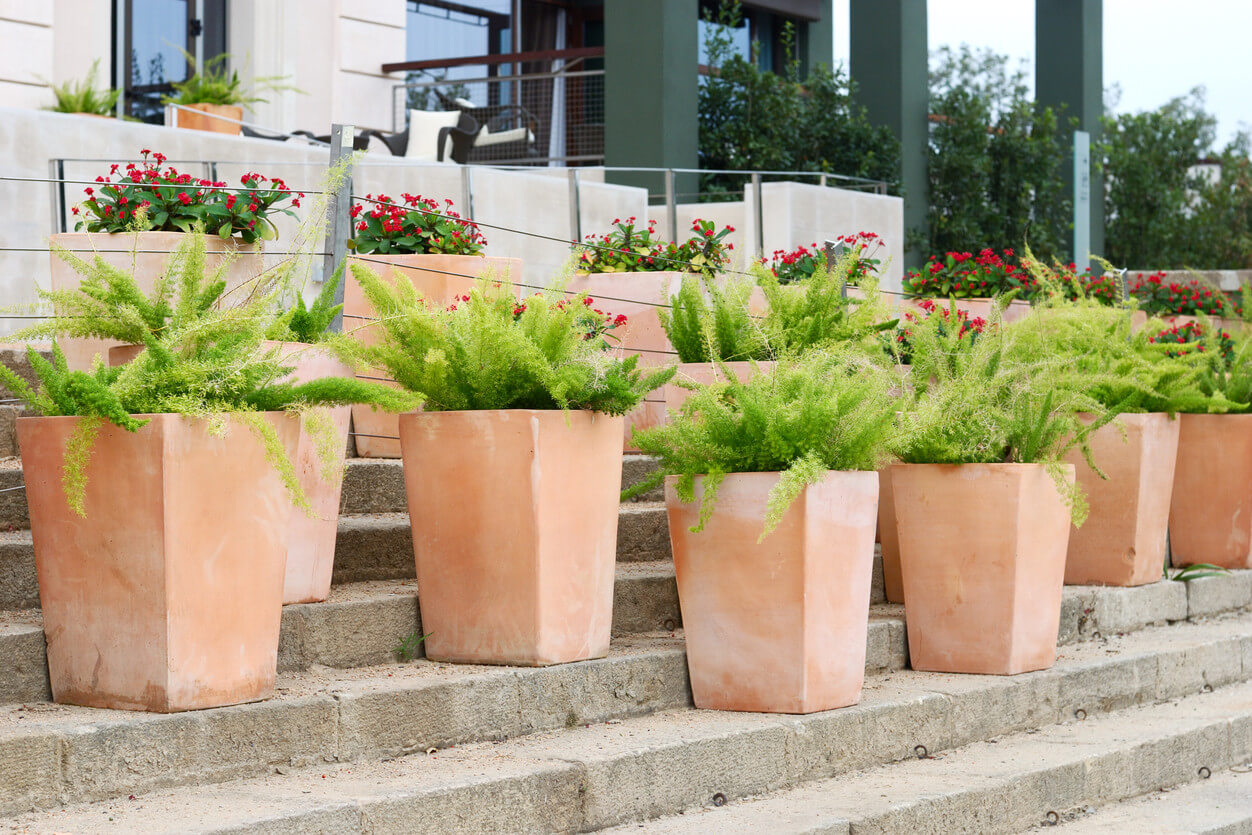 1. Add planters in the workspaces
When it comes to spring updates for your business, adding planters to the workspace of your employees is a big hit. There are a few reasons you should make this a priority for your spring revamp. For starters, plants can improve productivity in the workspace. They also help improve mental health for workers. In fact, workers with plants around them use less sick time. Plants can even purify the air for better air quality in the office. There are so many great reasons to add a few planters to the work areas for your employees.
2. Spruce up customer/guest waiting areas
If your business has a waiting area, spring is the perfect time to add some plants. Plants make any space more inviting and vibrant. It's easy to add planters to these spaces in a few ways. You can add smaller window planters to highlight window areas, large planters along the walls, or tapered styles in the seating area. This is a quick and easy way to give your business a spring revamp while adding to the overall aesthetic of the space.
3. Add more spring colors
Spring is the perfect time to add some lively colors in terms of pots and planters. If you are looking to bring the lively hues of spring and summer to your business, colorful pots are a great choice. You can opt for fun, vibrant colors perfect for both seasons such as red, blue, pink, green, or yellow. Adding colorful pots ushers in spring while giving your business a fresh look your customers will love.
4. Change the plants to a mix of flowers and greenery
Spring is definitely the perfect time to mix up what is inside the planters as well. You can add some colorful flowers in pretty spring colors such as pink and yellow for a fresh reminder of the season. Spring is also a great time to up the greenery in your planters. Whether you opt for more flowers with a touch of green or an even mix of flowers and green in each planter, spring is the perfect time to revamp your business with new plants.
5. Create areas of privacy with planters
Depending on the type of business, using planters to add privacy to outdoor areas is a smart move. If your business has a rooftop area, patio, or other area for customers or staff to relax, adding larger planters to this space allows for privacy while they enjoy the spring weather. You can block out city streets or ugly backdrops with large planters and tall plants. This strategy can also be used to create a sitting area with planters surrounding it for an outdoor oasis perfect for relaxing in the spring. From hotels and restaurants to hospitals, there are plenty of businesses where planters are ideal for creating privacy.
6. Check the condition of existing planters
Spring is the perfect time to assess your current planters. If your business has planters that are cracked, faded, or damaged in any way, it sets a bad tone overall for both customers and staff. This is why it is important to check the condition of planters each spring and promptly replace any pots in need of an uplift. This simple task can make a big difference in the overall impression of your location.
7. Clean planters/pots as needed
In addition to checking for any signs of damage, spring is also a good time to clean any existing planters or pots as needed. If your pots are outdoors exposed to the elements, you may need to wash them with cleaner and spray them clean to make them look like new again. If the planters are indoors, it may be as simple as wiping the pots down with a towel to remove dust or any dirt. Planters always look their best when they are clean. This is a quick and easy way to upgrade the appearance of your business each spring.
8. Add window planters to create privacy
If your business has large windows, adding planters to create more privacy may be ideal. Provided you aren't the type of business using windows to attract customers such as a retail business, window planters can work to the advantage of the space. For instance, if your business is a restaurant trying to create more privacy or an office setting looking to block out an ugly view, this can be a great spring revamp for the location.
9. Find a focal point
When looking for a spring revamp for your business, finding a focal point in a space can add a dramatic effect. This can be achieved with the use of large planters placed strategically in an area. For instance, if you are looking to spruce up the lobby area of your business, adding a large planter along the wall under artwork will draw the eye to that area for a focal point. You can also create these focal points by adding colorful planters in an otherwise subdued room with muted colors and minimal décor elements.
10. Keep things consistent area by area
While you want to add new elements as part of your spring upgrade, you should also keep consistency in mind overall. If you add a few new planters to an area of your business, you should make sure the look stays consistent with any existing planters in the area. This doesn't mean you need to stick to just one shape or color throughout the entire building or exterior. You can certainly have one color planter for one room and a different one for a different area. The key is to keep things consistent on an area by area basis to avoid clashing.