How to Use Plants and Planters to Transform Your Reception Space
Posted by Jason Wyrwicz on Jul 2nd 2021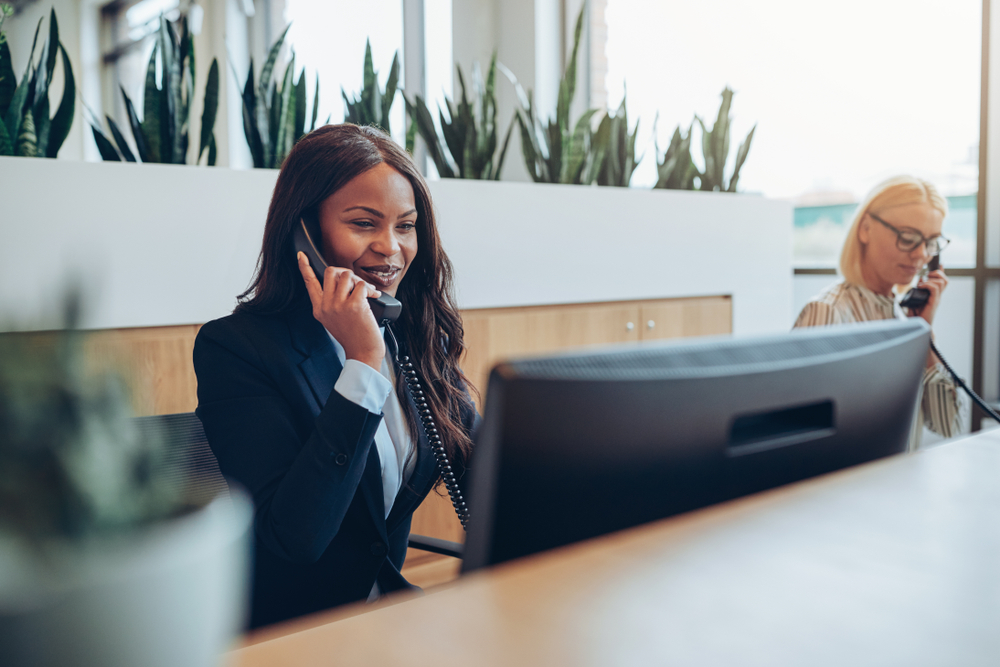 Put yourself in the shoes of a VIP client, new customer, or potential job candidate. Now imagine walking through the doors of an office building and being greeted by a reception space that's bleak, tired, and uninspiring. This first impression could suggest the business is the same, so it's quite likely you'll turn around and walk back out.
When meeting someone for the first time, you only have seven seconds to make a positive impression, with some scientific research even suggesting it takes as little as a tenth of a second for people to determine your trustworthiness. As your reception space is the face of your business, the same rules apply here too.
Luckily, you don't need an entire brand manual or deep pockets to create a warm and welcoming reception, as plants and planters are a simple and incredibly effective way to inject personality into a commercial building.
The Benefits of Plants in a Reception Space
Not only does fresh foliage visually enhance a reception or foyer area, but a pleasing arrangement of green goodness can also help improve the mental and physical health of those working and waiting there. Here's how:
Regulating humidity. According to a study conducted by the University of Norway, plants release roughly 97% of the water they take in, making those troublesome colds, sore throats, and dry coughs less common.

Purifying the air. Inside office spaces, many furnishings, building materials, and equipment, such as photocopiers, contain nasty pollutants like formaldehyde, benzene, and trichloroethylene. Plants pull many of these contaminants into their soil and convert them into food, making the air cleaner and safer to breathe.
Relieving stress. While plants make an area more visually appealing, their scent also acts as natural aromatherapy. For example, lavender's soothing fragrance is incredibly beneficial in a dentist's reception where patients may feel anxious.
Choosing the Right Plants and Planters for Your Business
The reception area is the first impression someone has of your business, so your decor needs to align with your overall brand while making you stand out from your competitors. However, with so many species of plants and styles of pots and planters to choose from, it can be tricky knowing where to begin.
Firstly, think about the values and characteristics that you want to associate with your company. If you're a young, vibrant startup, consider choosing flowers in popping reds, oranges, and yellows, and pots with sleek, contemporary lines. Alternatively, muted planters in blues and grays with classical, fluted shapes might be more suitable if you're a well-established enterprise with a professional feel.
Here are a few examples of different planters and their uses:
Tabletop planters. Typically, the front desk is the first thing your eye is drawn to when entering a reception area, so decorating it with pots and plants is an excellent way to make an immediate impact.
Indoor planters. Whether tall and tapered or short and square, we have a wide variety of indoor planters for adding interest to a dull corner. Group several in different heights to create a trendy, eclectic look or line them up uniformly for a more contemporary feel.
Planter boxes. Perfect if you have a bigger space, these long planter boxes can be filled with shrubs or topiary and used as screen dividers to separate the reception area from the office in an open-plan scheme.
While aesthetics are undoubtedly important, functionality must be at the heart of your reception area's design. The primary purpose of this space is to give visitors somewhere to relax as they wait, so keep your plants well-maintained and be wary of how many you use. Remember, you're looking to enhance the decor, not cultivate a jungle.
Commercial Planters for Your Reception Space
We understand reception areas get a lot of traffic, which is why all of our commercial planters are made from high-quality materials in easy-care finishes. For more information, contact our expert team on (888) 381-9501 or email us at sales@potsplantersandmore.com.