The Best Planters for Office Common Areas
Posted by Jason Wyrwicz on Nov 16th 2020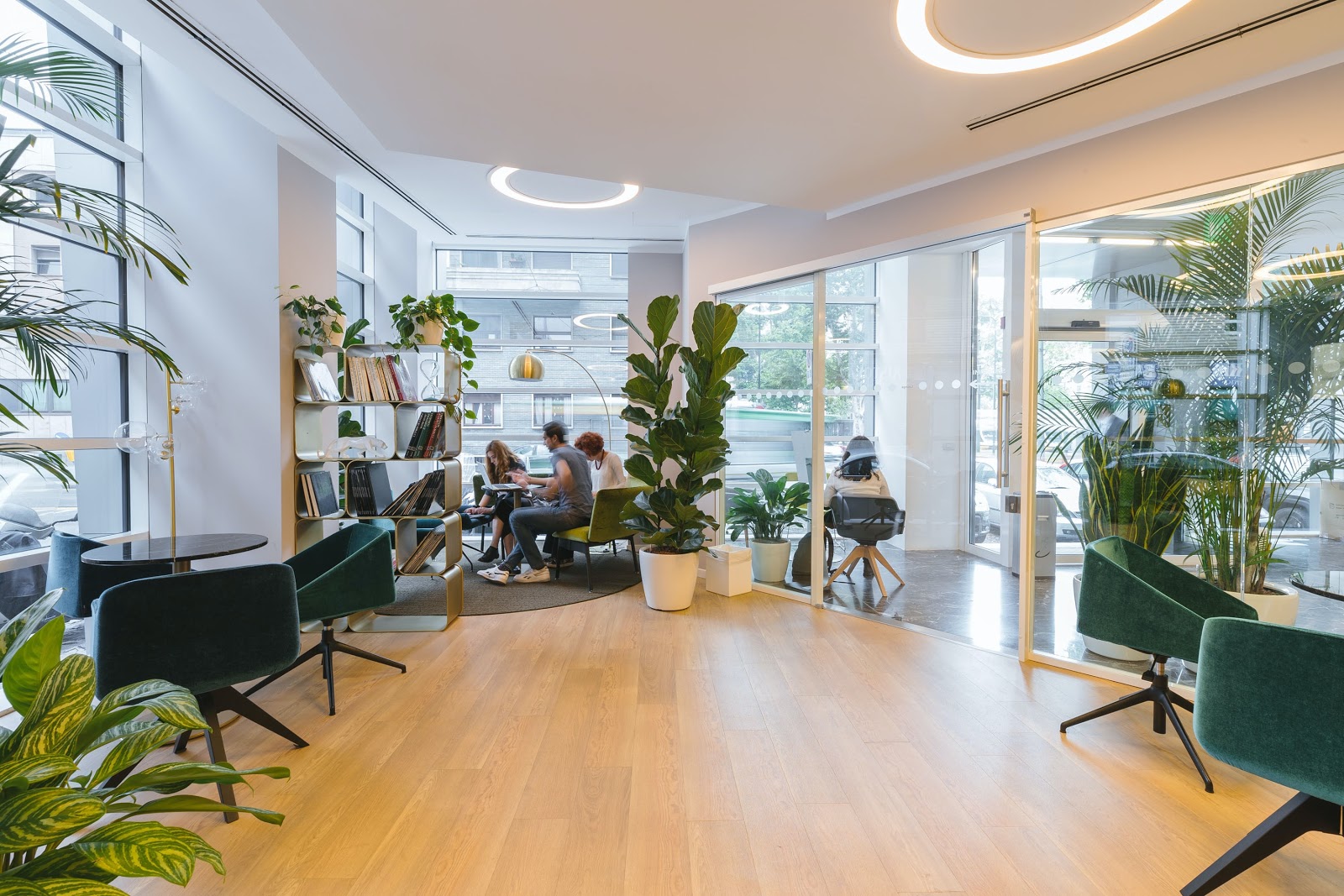 There has been a growing discussion about how we will continue to work once the current pandemic ends. Remote working has shown many of us a different way of doing our jobs. Do we need to be chained to an office desk, and do our employers have our health and safety in mind as a priority?
Working from home has led many people to realize that there is another way. And when people come back to the office .
There has been a growing discussion about how we will continue to work once the current pandemic ends. Remote working has shown many of us a different way of doing our jobs. Do we need to be chained to an office desk, and do our employers have our health and safety in mind as a priority?
Working from home has led many people to realize that there is another way. And when people come back to the office (if they come back), they will likely demand some swift changes to the traditional workplace.
One popular idea for employers to consider is comfortable and social common areas where employees can relax, co-work, and socialize. Scheduled breaks and flexible working are becoming more and more important, so creating these common areas could appease employees returning to the office.
This post explores how you can use planters for office common areas to create extraordinary spaces your employees will love. The combination of vibrant plant life and comfortable furniture work in harmony to create common areas, or " recharge rooms," that boost employee morale, attract new talent, and increase employee retention rates.
Essential Features of a Common Area
To create a unique space that employees will love, there are some essential features to include. A common area should always be designed with the users in mind. What is important to them? What amenities do they need? What makes people feel relaxed and helps them to escape?
Comfort
The main priority of any common area should be the level of comfort. Big comfy sofas and chairs, which people can sink into, are essential. Sitting at a desk all day puts a lot of strain on the human body. Employees need an escape from their desk position.
The addition of standing tables or desks is also worth considering as they provide welcome relief from sitting all day. Maybe over a cup of coffee while chatting with colleagues.
Natural Lighting
Many offices expose employees to artificial light all day, five days a week. Research suggests that artificial light negatively affects human health by increasing the risk of eyesight issues, depression, sleep disorders, and more.
Natural light is vital for health reasons, and over 80 percent of employees say it's important to them. A further 32 percent say natural lighting would make them happier in the workplace.
Loads of Plants!
Plants are truly magical and benefit humans in several key ways. Beyond looking great and adding a touch of nature to a room, they also purify the local air and boost productivity, improve mood, and reduce stress.
Whether you decide to use plants in a minimal setting or go full-jungle, employees will appreciate the addition of greenery to their workspaces.
Using Planters for Office Common Areas
Planters are not just nice homes for plants. They're much more than that! Planters come in a wide array of materials, colors, finishes, textures, and styles. They can be as much a part of your overall design as the flooring, furniture, and lighting.
Here are some great tips for using planters effectively in your common area.
Analyze the Space
The first job is to analyze the space you have to work with and identify the room's strongest and weakest points. Be on the lookout for areas where things need to brighten up and places where you could add more static pieces.
Take a walk around the space and look at it from all angles and perspectives. Make notes on what planters your intuition tells you would look good. Maybe a tall planter would best suit the dark corners that need occupying, or a customized metal planter is required to fill the center of the room if you have a large space to work with. Get creative and try to imagine the planters already in place.
Include the Planters on Your Layout
Now you have imagined the planters in the various places, draw them into your layout. This is the best way to visualize the space you wish to create. Think about planters not just as aesthetically pleasing objects but as dividers, partitions, walls, and guiding lines.
Large outdoor planters are useful for dividing up tables or seating areas. They can offer privacy to those sitting down or protection from the weather if outside. Planters can be a functional component of your design.
Choose the Styles
Once you know the type of indoor planters you want and where they're going, it's time to choose the style of your planters. Modern planters come in a wide range of materials, colors, textures, and finishes. It's not always easy to decide the best style for your layout.
It helps to focus on one material. Your choice of material should be based on the specific decor you have planned, any theme such as minimalist, art deco, contemporary or bohemian.
For example, if you have chosen a minimalist style, you should opt for fiberglass planters or metal planters in neutral colors and simple shapes like round, square, and tapered. Art deco designs may require terracotta or customized planters with much bolder colors and shapes.
Don't Clutter Your Common Area
If you're a plant lover, it's easy to get carried away and turn your common area into a jungle type scene. You should aim to keep the space open and refrain from cluttering, which can feel uncomfortable and disorientating for those using the area.
Remember, not all indoor planters have to sit on the floor, worktops, or shelving units. Planters can also hang from the walls and ceiling, giving you the jungle feel without cluttering the main floor space.
If you're insistent on having many plants in the common area, consider concentrating the plants into one unique focal point. Large customized planters can create an island of greenery in the center, corner, or side of your common area.
Using Large Planters
A common trend among some of the most famous office common areas is the use of large planters that contain big, impressive plants. These are great for creating that forest or jungle type scene that many people enjoy being surrounded by.
Large plants make a big statement and help emphasize the design scheme with splashes of bright green foliage. Take the time to consider the style, color, and texture of the large planters you use. Make sure they work with the design.
Some of the Best Planters for Common Areas
Choosing the right indoor planters can be overwhelming. To help you out, we've listed below our favorite planters that work well in common areas to help inspire you.
An updated take on a timeless, classic design that fits perfectly within contemporary or modern interior designs. Made from ultra-strong and weather-resistant fiberglass, this planter is the perfect addition to any modern common area.
Pots like the Alicante offer a touch of luxury without appearing overly grandiose. They make for interesting focal points throughout any interior design.
If you're looking to make a statement and add some privacy, the Fulton metal dividers are a perfect choice. Made from durable metal with extensive style options available, you can select the ideal partition for your common area.
Dividers are vital if you're creating a common area where people can co-work and relax together. They help draw the line between areas for working and meetings, and areas designated for chilling out and taking a break.
The Amesbury tall planter offers a sophisticated blend of classic appeal and contemporary design. It's best suited for a minimalistic, modern style, which makes it a striking addition to any common area design.
Tall planters are invigorating, eye-catching features. Most commonly used in stylish indoor spaces, as they help to highlight walkways or walls and bring natural elements inside the home. Display your plants up high and create a unique focal point.
The Saint Tropez is a unique blend of traditional and minimalism. It offers a touch of elegance to any space it's placed in and looks fantastic when filled with plants with large lush green leaves.
The gentle and subtle tapers are an attractive focal point, best used to frame a door or window or highlight a piece of art. The Saint Tropez Tall Vase Planter Pot can be used individually or you can sit several on worktops or in the rooms' corners.
Low profile planter boxes are modern, neat, subtle, and work in almost any interior or exterior design. These planters offer a blend of classic and contemporary design with flawless, high-quality construction.
If you need a planter that is understated but stylish, low profile planter boxes made of fiberglass are excellent for lining common areas, walkways, and patios. Low profile planter boxes are an elegant addition to a common area and will allow plants to flourish.
Ready to Create a Common Area?
If you're currently planning a common area for your company or are considering the project, we hope this article helps give you some inspiration. A common area is sure to boost morale once employees are back at work and readjusting back to office life.