All About Geometric Interior Design
Posted by Jason W on Aug 24th 2022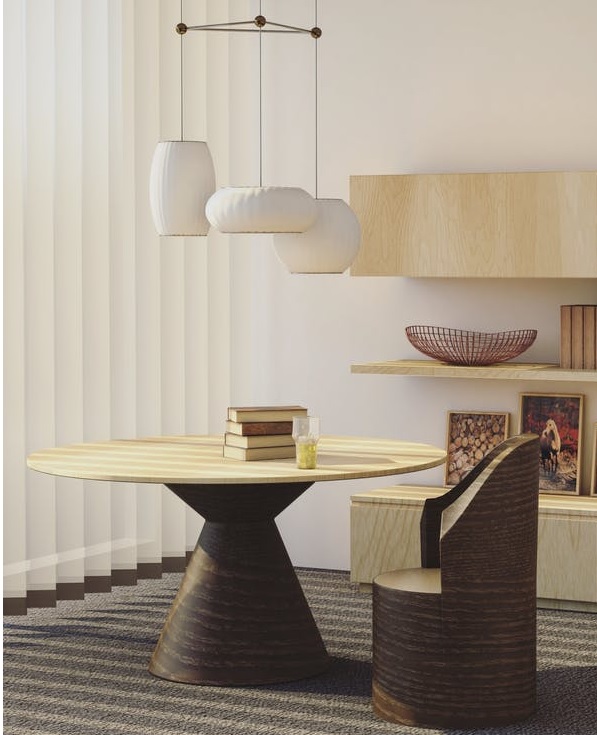 Are you about ready to pull the trigger on a new fleet of rectangular planter boxes for your office's interior (or exterior spaces)?
Before you do, consider the implications of aligning with, or adopting a new style - geometric interior design.
While you might have been interested in square, round, or even rectangular planters boxes from our website because they can complement minimalism, brutalism, and industrialism, there is so much more they can do.
Let's talk about geometric interior design and how our geometric planter boxes can serve to create a sense of harmony in your interior spaces.
What Is Geometric Interior Design?
Geometric interior design, which in many ways can be seen either as an offshoot or an evolution of Art Deco, Mid-Century Modern, or Contemporary schools of design, is the practice of incorporating geometric designs into the fabric of interior spaces.
In its purest form, geometric interior design is much more than incorporating shapes and patterns, but is the practice of creating an overarching theme that hinges on their prevalence. Many rooms and interior spaces that evince this style are very clearly suffused, even dominated by repeating geometric shapes and patterns, or by the balance of linear and curved elements.
Geometric interior design is overarching. It encompasses the use of geometrically-aligned furniture, appliances, and fixtures that take on basic, simple shapes, and of course, in the supporting elements of office or home decor - in flooring, lighting, paint, and wall hangings, and so much more.
Think of it as a school of design that hinges on the inclusion of geometric shapes in the fabric of its essence.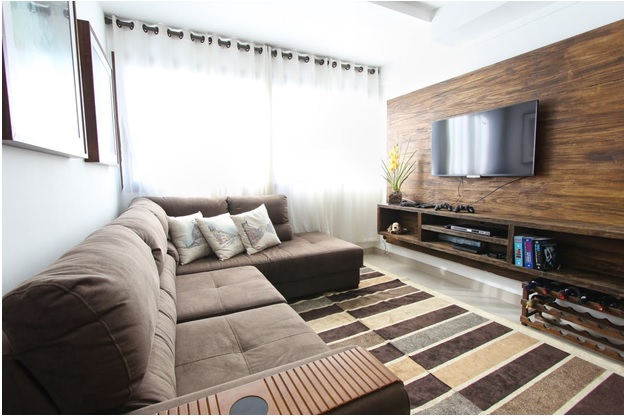 Why Geometric Interior Design Has Become So Popular
There are so many reasons that geometric interior design has become increasingly popular in recent years. One is in its simplicity. Geometric design is self-evident; it is not governed by a single influential design or a proprietary guild of creators. It is like an open-concept school of design that can be easily, universally adopted, and applied.
Another is in the inclusivity of the movement. While geometric design is a movement in and of itself, it can be adapted in part or sum total to so many other movements of design. That is to say, geometric elements can be introduced into other schools of interior design without clashing too much - if at all.
Then there is the fact that the human mind craves balance and order, which bring about feelings of peace and tranquility. There is a natural sense of pattern in geometric design due to the repeating geometric elements that create an innate sense of balance and harmony.
Geometric design also gives designers the freedom to create both a feeling of a full space or a negative space, with the same elements. For instance, small, repeating geometric elements and shapes can be used to make a space feel full and electric, whereas the juxtaposition of large negative spaces (large geometric shapes) can make a space feel more open or place emphasis on the other included elements.
Geometric design can is also highly adaptable and can be used in a wide range of different settings. Even if your office, home, or garden predominantly leans toward the rustic or maximalist schools of design, there are ways to work shapes and patterns into it - even as a simple area of intrigue.
Finally, even in the absence of bright colors (geometric design can be used with both bright and neutral overtones or a mix), this school of design can be used to create visual interest. Even in black and white settings, the lay and intersection of geometric lines can create visual intrigue in ways that other schools of design would struggle to replicate.
So, there you have it. Geometric interior design is adaptable, flexible, versatile, and can be used to create a sense of harmony and balance, not to mention the fact that it works, more or less, with almost any other school of design.
Fundaments of Designing According to the Geometric School
Thinking about introducing geometric elements into your office space? You don't need to go crazy with it - a little bit goes a long way.
Here are some creative ways that mundane fixtures, furniture, and accessories can be used to put a geometric slant on your corporate interiors.
Round, Square, and Rectangular Planter Boxes
If your office has interior plants or planters and you need a refresh, round, square, or rectangular planter boxes are a great way to create a geometric impression.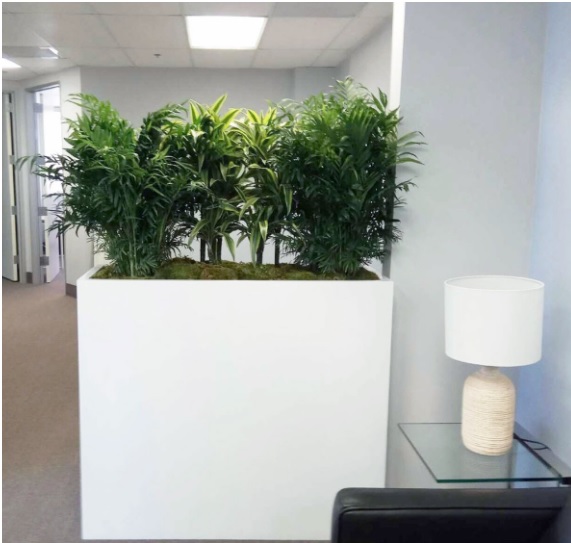 If you want to get really creative with it, you can tile your round or geometric planters to create layers of geometric patterns that nest beautifully within each other. (Call us if you have any questions about our indoor and outdoor geometric planter pots - they're available in a wide range of shapes and sizes and with or without drainage holes. We're here to help!)
Patterned Rugs and Wall Hangings
Patterned rugs can be a great way to inject geometry into a setting, as can wall hangings. Choose a rug, either one that is, itself, shaped, or which contains a pattern.
Also, wall hangings with repeating patterns, or those that are overtly shaped according to geometric principles, are also a great set of accessories.
Filing Cabinets, Desks, and Other Furniture
Guess what else is inherently geometric, although albeit unintentionally - furniture!
Filing cabinets, chests of drawers, desks, and other fixtures and furniture are typically geometric by their very nature. If you're creating a geometric accent in your office, opt for furniture that complements the overarching pattern or scheme.
Chairs, Tables, and Seating Arrangements
Chairs, tables, sofas, stools, and other seating arrangements are often made in simple geometric shapes and sometimes with patterned, shaped hardware. These can also be used to support a geometric interior design scheme.
Appliances that you might have around your office, such as water coolers, coffee machines, refrigerators, toasters, printers, and even monitors, all can be used to support your geometric arch.
Your other supporting accents can create a sense of geometry. Opt for wallpaper with shapes or repeating patterns, or paint these on the walls. The same goes for carpeting or flooring.
Tiling is one of the easiest ways to create a geometric interior, hands down, and tiles - not only square and rectangular, but rounded, oblong, and hexagonal, can be used to finish the floors, the walls, even countertops, ceilings, and fixtures.
There are plenty of creative light fixtures on the market, too. Some fixtures are inherently round, square, elongated or linear, or rectangular. Also, there is a wide range of hanging fixtures like pendants that couch the lights they contain in a geometric sort of cage.
This improves their allure and calls attention to itself, underscoring the geometric bent of a scene.
Start with Carpet, Fixtures, Tile, and Even Rectangular Planter Boxes
Geometric design is easy to improvise and can be highly effective at making a space feel balanced and harmonious. Put it into practice today!